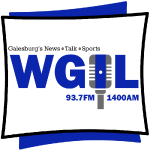 The Knox County Health Department and the Illinois Department of Public Health say that the county has its first confirmed case of COVID-19 Coronavirus as of Friday night.
Officials say the case is a male in his 50's.
Federal privacy restrictions prohibit the release of any additional information regarding this case.
Knox County Emergency Management Coordinator Randy Hovind says the Unified Command is working to actively monitor those who were in direct contact with the individual.
He says it's a "very labor-intensive and all-inclusive procedure."
Mayor John Pritchard assures citizens "the city is proactively responding" and is staying informed to the latest guidelines.
Officials are reminding citizens to practice the three C's to stay safe and contain the virus; clean, cover, contain.
A press conference is planned for Saturday morning at 10am. The press conference will be aired LIVE on WGIL, WGIL.com, and WGIL on the TuneIn Radio app.
It also can be viewed on Public Comcast Channel 7 or the City of Galesburg's website.
Tags: COVID-19