FTC Announces Call for Comments on New Change to Contact Lens Rule
The FTC enforces the Contact Len Rule, which gives you the right to get your contact lens prescription from your eye doctor – whether you ask for it or not – at no extra charge. This right also is known as the automatic prescription release requirement. It allows you to take your prescription wherever you want – online or to the mall – to shop around and look for the best deal.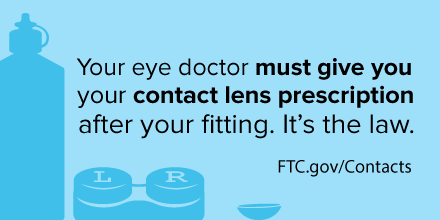 The Contact Lens Rule has been in place since August 2004. Periodically, the FTC likes to take a look at all its rules to make sure they are up-to-date, effective, and not overly burdensome. So in September 2015, the FTC asked for public comment on the how well the Contact Lens Rule was working, whether prescribers and sellers were complying with its requirements, and what changes, if any, the Commission should consider. After reviewing more than 600 comments and other evidence, we determined that it would be beneficial to look at ways to make sure that prescribers are giving patients a copy of the contact lens prescription once the contact lens fitting is completed. To make that happen, we propose amending the Rule to require contact lens prescribers to get a signed acknowledgement from the patient after providing a copy of the prescription. The prescriber would also have to keep a copy of this signed acknowledgment for at least three years.
But there's one more step in the process: the Commission needs to receive feedback on this new proposal. The proposal must appear in the Federal Register, along with instructions for filing comments. If you want to weigh in, file a comment! And stay tuned. We'll have more information to share in the coming months. In the meantime, you can learn more about your rights by reading Prescription Glasses and Contact Lenses.
Have you ever had any trouble getting your contact lens prescription from your Eye Doctor? Share your thoughts and comments below!