COVID-19 in Woodbury County: 'This is probably not our last case'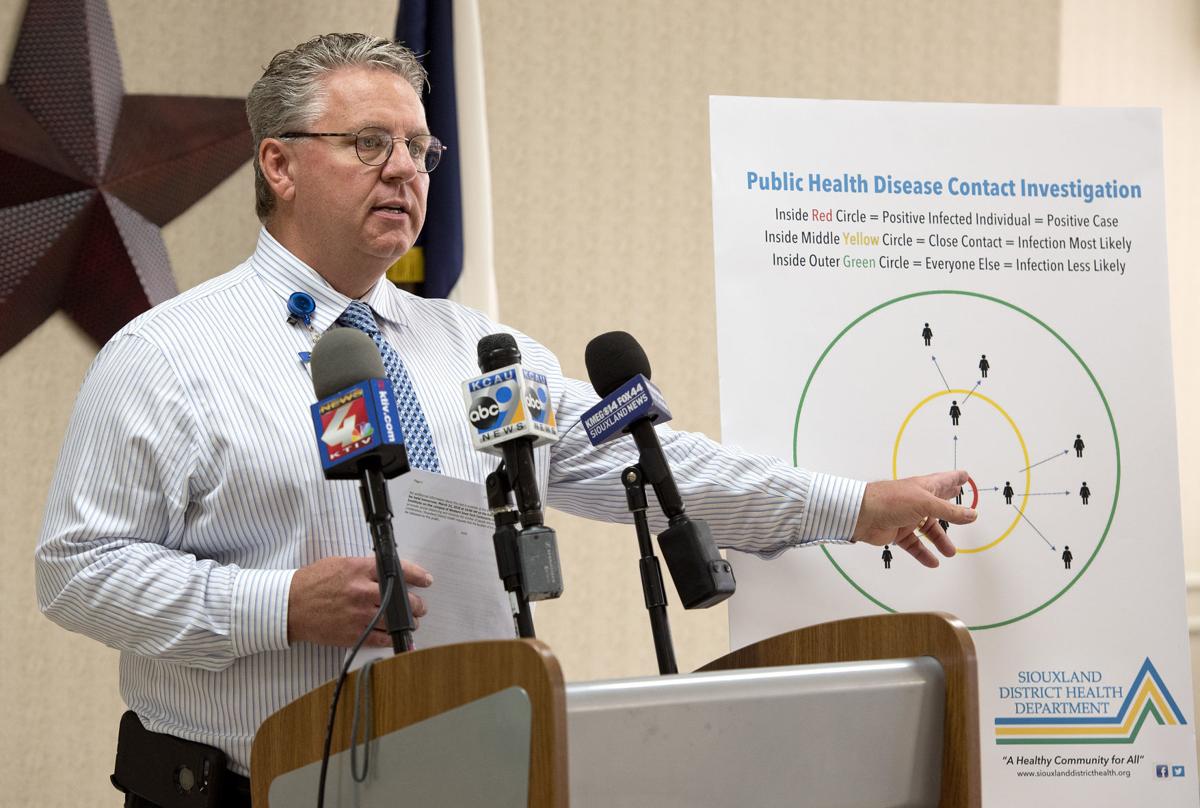 SIOUX CITY — In a press conference Sunday morning, Siouxland District Health Department Director Kevin Grieme said that more individuals in Woodbury County are undergoing testing for the novel coronavirus disease, or COVID-19.
Siouxland District Health announced Saturday night the first case in Woodbury County, a middle-aged woman who is self-isolating at home.
"While this is the first confirmed case, we will acknowledge this is probably not our last case," Grieme said.
The woman's symptoms are reportedly mild enough that she can be at home without needing to be at a hospital. It's unclear how long the woman had been experiencing symptoms; she was tested for the virus at some point in the past week.
How exactly the woman contracted COVID-19 is not known. Tyler Brock, deputy director of Siouxland District Health, said that travel is a possibility.
"There is travel associated with this person, but it is not able to be 100 percent determined that, yes, this was the cause," Brock said.
The Woodbury County case is the first in Northwest Iowa. On Sunday morning, Gov. Kim Reynolds' office released updated figures on the coronavirus outbreak, indicating a total of 90 cases, including an older individual in Sioux County.
As of Sunday, the Associated Press reported there have been more than 33,000 cases of COVID-19 nationwide, and more than 400 deaths.
Health officials have been working to identify those who were "close contacts" of the Woodbury County woman. Family members are regarded as close contacts, while others — coworkers or anyone else she may have casually interacted with in a store, or elsewhere in public, are not necessarily regarded as close contacts.
Grieme said that Siouxland District Health is unable to release other information about the woman, including which town in the county she lives in, the nature of her work or places she may have visited.
"We need to protect their privacy," Grieme said.
"We also know, whether it's Sioux City or a small community, there's potential that word gets out, and it may actually identify them," he added.
Anyone who feels they may be a close contact is not encouraged to call a hospital or their local health department, Grieme said, unless they have taken ill.
"What we're going to do is, ask the general individual (to) refrain from calling Siouxland District Health Department to inquire if they're a close contact, and also medical providers, and the hospitals," he said. "However if you do have symptoms, we still encourage that. But to call in and say, 'Am I a close contact?' That is not an answer that we can provide."
Grieme said that about 80 percent of people who contract COVID-19 "should experience only mild to moderate illness," and that those who are mildly ill will likely not need to visit a healthcare provider.
Those who are sick, he said, must isolate themselves at home until they have had no fever or cough for 72 hours, without the aid of anti-inflammatory drugs like aspirin or ibuprofen, and at least seven days from when their symptoms first appeared.
Subscribe to our Daily Headlines newsletter